Part of my healthier you plan deals with mental health. Today I did something to help that. I am very type A, like to be organized and have everything in it's place. When things are not organized I get stressed out. When everything is clean I feel so much more relaxed and at peace. So I am tackling one room at a time.
Today was the laundry room. I have always wanted a mud room, somewhere to put my running stuff, sit down, take off my shoes, hang my purse. We just don't have room for this in our hallways, but then it hit me, if I cleaned up the laundry rom which is right next to the garage door where we come in, I could make a mud room. So that's what I did! I went to target and got a shelf with hooks and hung it on the wall. Then I used a bench that sits in my bathroom, unused, and put it under the shelf. Then I added a pillow and there ya go!
My laundry room is small so getting an angle on the room was hard! This is from above.


some of my running stuff hung up and on the shelf


from the door. I put the hamper in that cabinet on the left to keep dirty clothes out of sight. You should have seen this room before. I forgot to take before photos because I was so excited to start!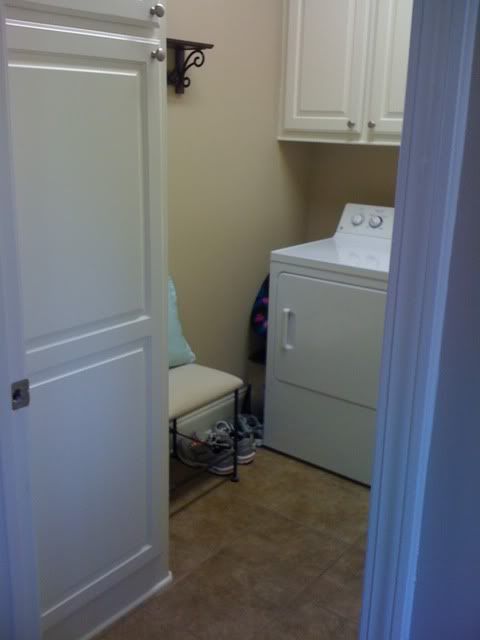 the detergent is there because it is too big to fit in the cabinet!


Whew I feel better already. I used to always keep that door closed because I would throw clothes in there, but now I want to keep it open, and it makes the house look bigger with the door open.
Next thing I did today to be healthy is make chicken parmesan. I thought I had chicken which I was going to bake…no such chicken. Luckily, I had frozen patties..not the healthiest but at least I had something to eat! So NORMALLY I would take
-baked chicken
-tomato sauce
-wheat pasta (I mixed half wheat half white because I am getting used to the taste)
-mozzarella cheese
**cook pasta, put in bowl, top with hcicken, sauce, and cheese. So fast and easy. I used healthy tomato sauce from fresh market, so I felt pretty good about it!


it was very good, I will do this again for sure, and hopefully with all whole wheat pasta!
no run today because my run to target and my laundry room re-vamp, so I am doing arms and abs. Doing strength training more is another step to a healthy me. I am on a roll today!